MAINTENANCE FEES: Maintenance Fees have gone out. Thank you in advance for your contribution in maintaining Spring Lake Estates. Without you, we could not continue with our efforts. We work very hard every day to make this community safe, and continue to work on raising our property values. Thank you!!!

​If you have any suggestions on how to better our community, and would like to volunteer in some small way, please contact Anna at 727-845-4507 or email at anna.springlakeestates@gmail.com. We would love to hear your comments and/or suggestions.



OUR ROADS: Every house in this subdivision was assessed for our roadways to be paved. We would like to make them last as long as possible. Please do your part and either spray the moss, grass, and weeds growing between the sidewalk and the roadways and between the sidewalks ...or dig them out. Thank you all for your diligence in this matter. It will not only prolong the life of your roads, it will make our community look more appealing. Again, thank you. If you are unable do this, please call Anna at 845-4507 and let her know. She will send someone out to help.


General Information
Welcome to our community! The purpose of this site is to serve as an online resource for our residents and visitors. We hope you find the website easy to use, informative, and reliable.

This website is maintained and supported by Spring Lake Estates. We are neighbors helping neighbors and are here to help. If you have any questions or if you have suggestions, please feel free to contact us. Enjoy your visit with us and come back often to see what is new in our community!

There is a mandatory maintenance fee of 45.00 per year due February 1 of each year . This fee has been instituted so we can keep our common areas maintained. Please send your maintenance fee to:

Spring Lake Estates Homeowners Association
4339 Spring Lake Ct
​ New Port Richey, FL 34652

or you can bring your payment to one of our meetings which are held every first Wednesday of each month at 7:30 pm at the clubhouse. Thank you in advance for keeping our community safe and also taking pride in where we live.



Spring Lake Estates
Spring Lake Estates is a quaint residential deed restricted community of approximately 240 homes located in New Port Richey, Florida. Our schools are within walking distance, have wonderful churches for all denominations, civic organizations, and hospitals close by. We are conveniently located between State Routes 19 and 54.
We are 2 hours away from Orlando, less than an hour away from Tampa, and 45 minutes from beautiful Clearwater Beach. There are wonderful restaurants, malls, a casino boat, and theaters nearby.
WE ARE NOW ON FACEBOOK! PLEASE VISIT US!!!

​
Monthly Meetings

Homeowners and renters - Please join us the first Wednesday of every month at 7:30 pm at our clubhouse which is located at 4339 Spring Lake Ct. Our discussions consist of our finances, your concerns as residents, how to make our community a safer place to live, guest speakers, and ways to improve Spring Lake Estates as a whole. We welcome all your thoughts and concerns. This is your community and we need residents to get involved to make it safe and beautiful. The officers look forward to meeting you!





---
ADVERTISING YOUR BUSINESS
If anyone would like to advertise their business on our website please call Anna at 727-845-4507. For $4.00 per month, she will put your business on a business page with your business card and/or "a little bit about your business". You can also advertise yearly for $ 42.00 per year. Also, if your children would like to advertise as a babysitter, or lawn mower, let me know and I will put them on our website at a discounted rate.


Where is our clubhouse located?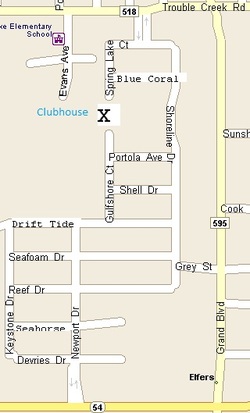 Our address is 4339 Spring Lake Ct.

There are two entrances to our clubhouse. You can either use the entrance at the end of Gulf Shore Ct or you can use the entrance at the end of Spring Lake Ct.

This is where our monthly meetings are held as well as our planned events.


Clubhouse Rental

Residents can rent the clubhouse for an eight (8) hour rental fee of $130.00. Non-residents can rent the clubhouse for an eight (8) hour rental fee of $150.00. Available for your use is a full kitchen, rectangular tables which sits 10 to a table, and a beautiful spacious yard for outdoor use. There is no smoking inside the clubhouse.



Please call Anna at 845-4507 for more information.
---